Approaches to AP Literature – Part 1
by Gina Kortuem
When I first accessed the AP Lit Course and Exam description (aka the binder) online in June, I had a physical reaction. My face drained of all color and my husband even rushed to my side, worried I might pass out. I turned to him and said, "Oh my God. I have to change everything."
Of course, I'm a classic overreactor. One small panic attack and a few hours later, I truly read through the course description and some of my panic subsided. I realized that the units outlined in the binder were examples of how to organize a unit, not requirements in any way. I breathed a little easier, ordered my binder, and commenced enjoying my summer.
When the binder arrived, along with its corresponding poster of ungodly size, I spread out on my office floor and began reading it over. (Yes, I could have studied it online, but like so many AP Lit instructors out there, I prefer a paper version.) I was still a little worried that my AP Lit course wouldn't be acceptable to the new framework, until I read this paragraph on page 11:
Read more

: Course and Curriculum Planning
"This publication is not a curriculum. Teachers create their own curricula by selecting and sequencing the texts and tasks that will enable students to develop the knowledge and skills outlined in this document…The objective of this publication is to provide teachers with clarity regarding the content and skills students should learn in order to qualify for college credit and placement. The AP Program recognizes that the real craft is in the skill with which teachers develop and deliver instruction."
I realized I had gotten carried away with my own self-doubts, as well as the collective worrying of many AP Lit Facebook group members. This binder and what it contained was neither law nor gospel, it was simply an updated way of looking at the learning objectives for the course.
I've now had several weeks to redesign my AP Lit course to better reflect the new course description and here are some of my takeaways:
I teach too much long fiction
This was the realization that drained the color from my face after reading the initial announcement. I knew in my gut that I needed to drop a book or two. After going through the appropriate grieving process, I determined that I could meet the course descriptions and required "long fiction" units by eliminating a novel and a play from our curriculum (sob.). The course description forced me to acknowledge that teaching 5-6 full novels takes up the most time, and that I really only needed three long works in my school year in order to teach the skills outlined in the binder.
My prose game needs work
I actually came to this realization last year, and I am fairly sure that I am not the only AP Lit teacher feeling this way. The AP exam devotes 50% of the multiple choice exam to close reading of prose passages, but I was spending almost all of our class time talking about theme, characterization, and overall "big picture" literary analysis. By approaching literature in smaller amounts, be that short stories or excerpts, students can work on close reading and real prose analysis skills more frequently. Therefore, I chose to hang on to some of my shorter texts (Metamorphosis and The Importance of Being Earnest) and work on prose analysis during those units. I'm also creating two-day prose lessons studying literary movements through excerpts and short stories, which I'll either intersperse throughout the year or teach as a whole unit.
It's okay to hang onto what you love
One worry I had with the new requirements was that I would have to outsource How to Read Literature Like a Professorto summer reading, something I have resisted so far. Although this book is usually assigned as summer reading, I love exploring it with my students in the first 2-3 weeks of the school year. The good news is that I learned I can apply many of the required skills toward HTRLLAP and am even counting it as a "short fiction" unit of its own. I think many other AP Lit teachers can feel reassured that if there is a successful text, unit, activity, or lesson that you simply adore, odds are you can find a way to keep it in the curriculum and meet several AP essential skills at the same time.
Vary your poetry instruction
Another good thing about new course changes was that it reaffirmed the way I currently teach poetry in my AP Lit class. A few years ago, I moved away from studying poetry just in standalone units and began integrating it into our regular classroom routine. Having three units of poetry works well with my current layout of an introduction unit (focusing on poetic elements, poetry analysis, and written explications), an advanced analysis unit (where students analyze harder poems and teach them in lesson form to their peers), and an ongoing unit of weekly poem lessons. These isolated lessons are mostly discussion-based, and I find that by returning to them weekly they help keep students' poetry skills and analysis sharp.
The new rubric is a needed change
As a four-time AP Lit reader, I've learned to understand and use the holistic rubric for essay scoring. That being said, I'm thrilled to switch to an analytical rubric model. I believe the new rubric is easier to instruct, easier to use, and easier for students to understand. I wasn't able to attend an APSI but I am enrolled in a one-day AP workshop this coming October and I am excited to learn more about using this scoring rubric to give more detailed feedback to my students.
It's okay to think outside the box
Contrary to what most people took away from the course description, I believe the new frameworks are designed to encourage creativity, differentiation, and outside-the-box thinking. The suggested units and course framework showed us the box, but College Board did not enforce any hard and fast rules. This means, keep doing what you do best. If you just love teaching To Kill a Mockingbird in AP Lit, keep doing so. If you are dying to try a dystopian text in your course, try it out! If you showed great success last year with fewer practice tests, then do it that way! The binder and its corresponding online text were not meant to box us in, but to give framework and ideas to new or struggling teachers. On page 115, after explaining that units could be laid out by genre, theme, author, or literature survey, it also says:
"The AP English Literature and Composition course framework was designed with instructional flexibility in mind; there are nine units organized in a logical, scaffolded sequence. The table [on p. 115 of the binder] illustrates four different ways AP English Literature and Composition teachers organize their course, but these are not the only four possibilities.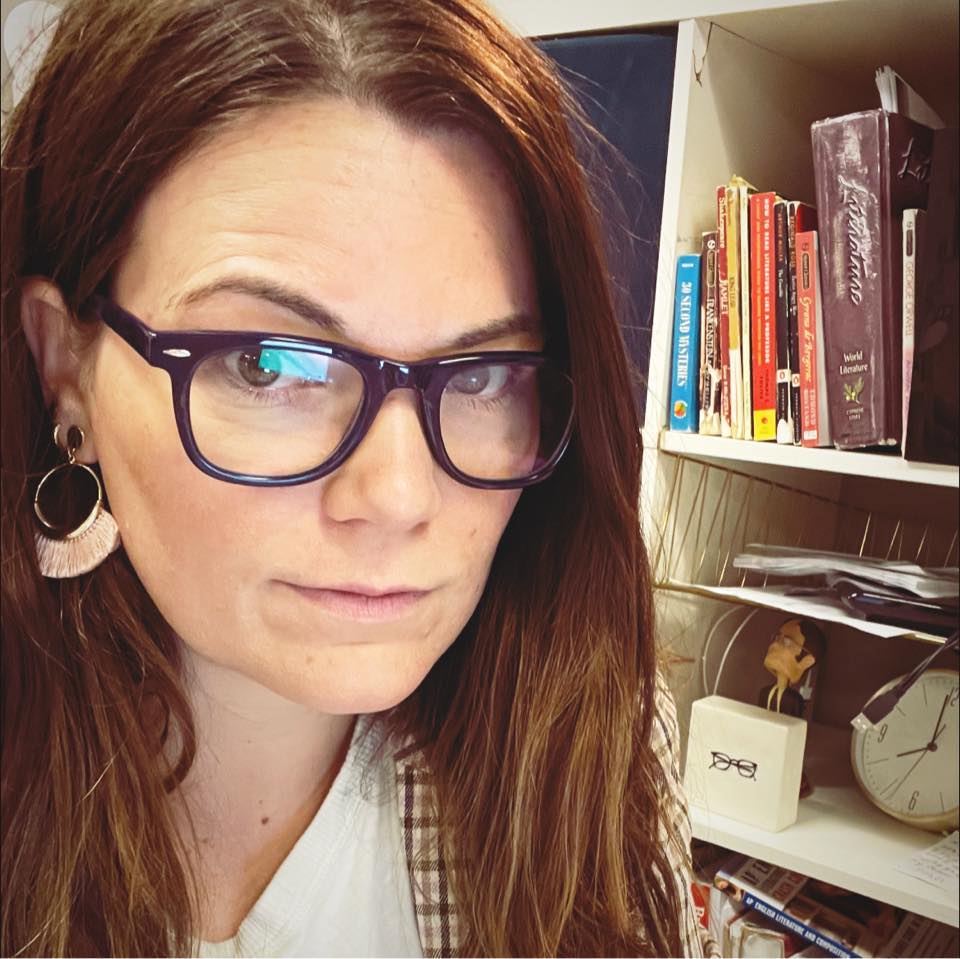 Gina Kortuem has been teaching AP Lit for 14 years, along with several core ELA classes and electives. She loves Shakespeare, teaching poetry, and modern novels the most. She has also served as an AP reader and runs the website AP Lit & More. She lives in St. Paul, MN with her husband, three young children, and hundreds of books she still needs to read.